A CULINARY SKILLS PROGRAM for HEALTH
C.H.E.F.S. stands for Cooking, Healthy Eating, and Food Strategies. It is a virtual, self-paced program designed to support you with basic cooking skills instruction while exploring the health benefits of foods.
Immediate access after enrolling
It is a virtual, self-paced program designed to support you with basic cooking skills instruction while exploring the health benefits of foods.
You'll have access to a library of 12 culinary nutrition lessons to gain knowledge and confidence in preparing simple, delicious meals and snacks you can count on to deliver big health benefits.
C.H.E.F.S. PROGRAM includes:
???? Access to 12 lessons that you can complete at your own pace. Looking for support with preparing vegetables? Skip ahead to that lesson and review the others as needed.
???? Nutrition lessons to learn about different foods and their health benefits
???? Culinary lessons to learn about key kitchen tools and how to use them to create simple, delicious meals and snacks
????‍???? Cooking demonstrations that illustrate nutrition and culinary lessons learned  [no cooking skills required – just the basics here!]
???? Lesson-specific materials and guides to support you in applying what you have learned
???? Access to 1,000s of recipes so you can practice weekly skills with recipes that meet your preferences
???? Resources to support you in building a kitchen with tools AND ingredients to get nourishing, delicious meals to the table fast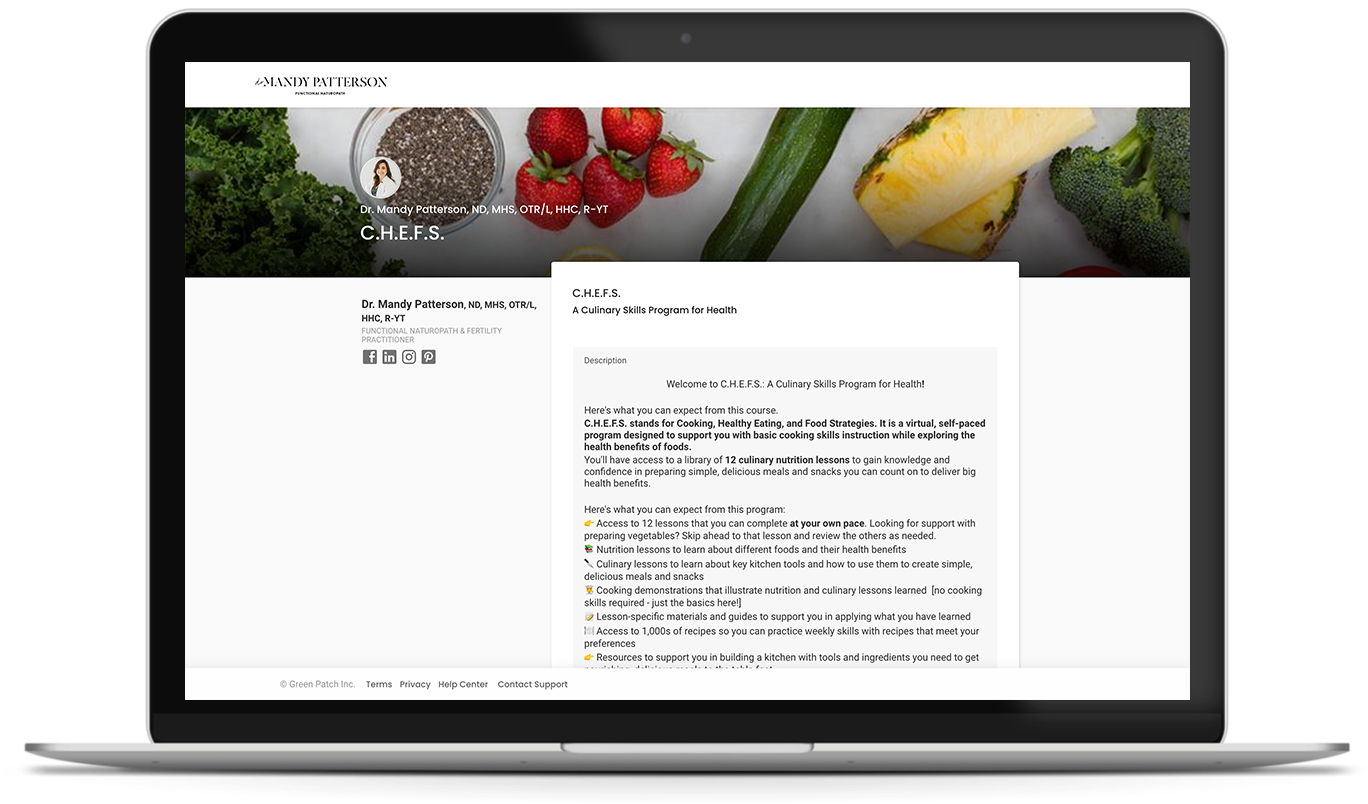 enroll in the program today, receive immediate and lifetime access
as long as the program is available
Immediate access after enrolling
Lesson 1: Nutrition 101 and Kitchen Basics
Lesson 2: Building a Healthy Kitchen
Lesson 4: Whole Grains and Pseudo-grains
Lesson 5: Legumes and Beans
Lesson 6: Seeds, Nuts, and Healthy Fats
Lesson 8: Sustainable Animal Proteins
Lesson 9: Dairy and Dairy Alternatives
Lesson 10: Flours, Baking, and Dessert
Lesson 11: Convenience Cooking
Lesson 12: Bringing it All Together – Meal Prep and Planning
MEET the PROGRAM FACILITATORS
Mandy Patterson is the founder of an online boutique wellness practice & consulting business, mandypatterson.com, that empowers high-performing women to find optimal health.
As an occupational therapist, certified holistic health coach, functional medicine practitioner, Doctor of Naturopathy, and mom of six, she shows women that they can have lasting, vibrant health. Using a lifetime of personal and professional experience, she bridges the division between conventional and alternative medicines, creating a simple, holistic health plan that shows women that achieving wellness can be invigorating and fun.
Mandy's mission is to empower you to dig deep in your quest for optimal health, to discover your confidence, and to help you commit to mindfulness and a vibrant lifestyle.
When you work with Mandy, you work with a woman, mom, coach, and partner whose sole goal is to inspire and support you on your journey to successfully overcoming your health struggles, creating long lasting relationships, and inviting joy and happiness into your life. Mandy offers personalized one-on-one coaching and group program options to equip you with the tools to be the healthiest version of yourself.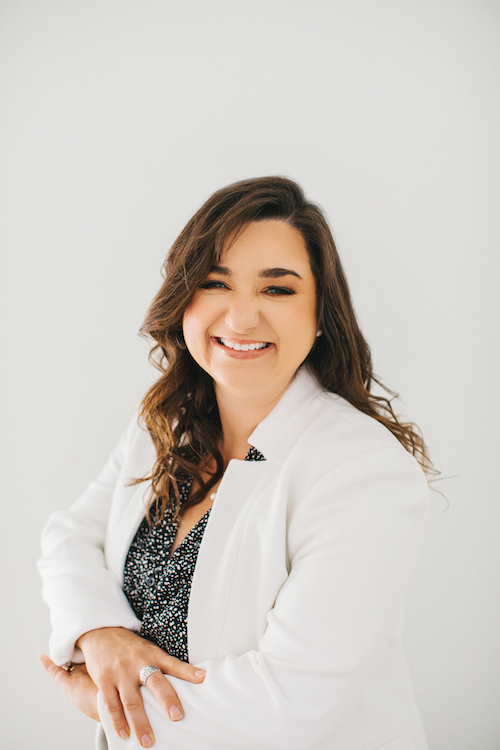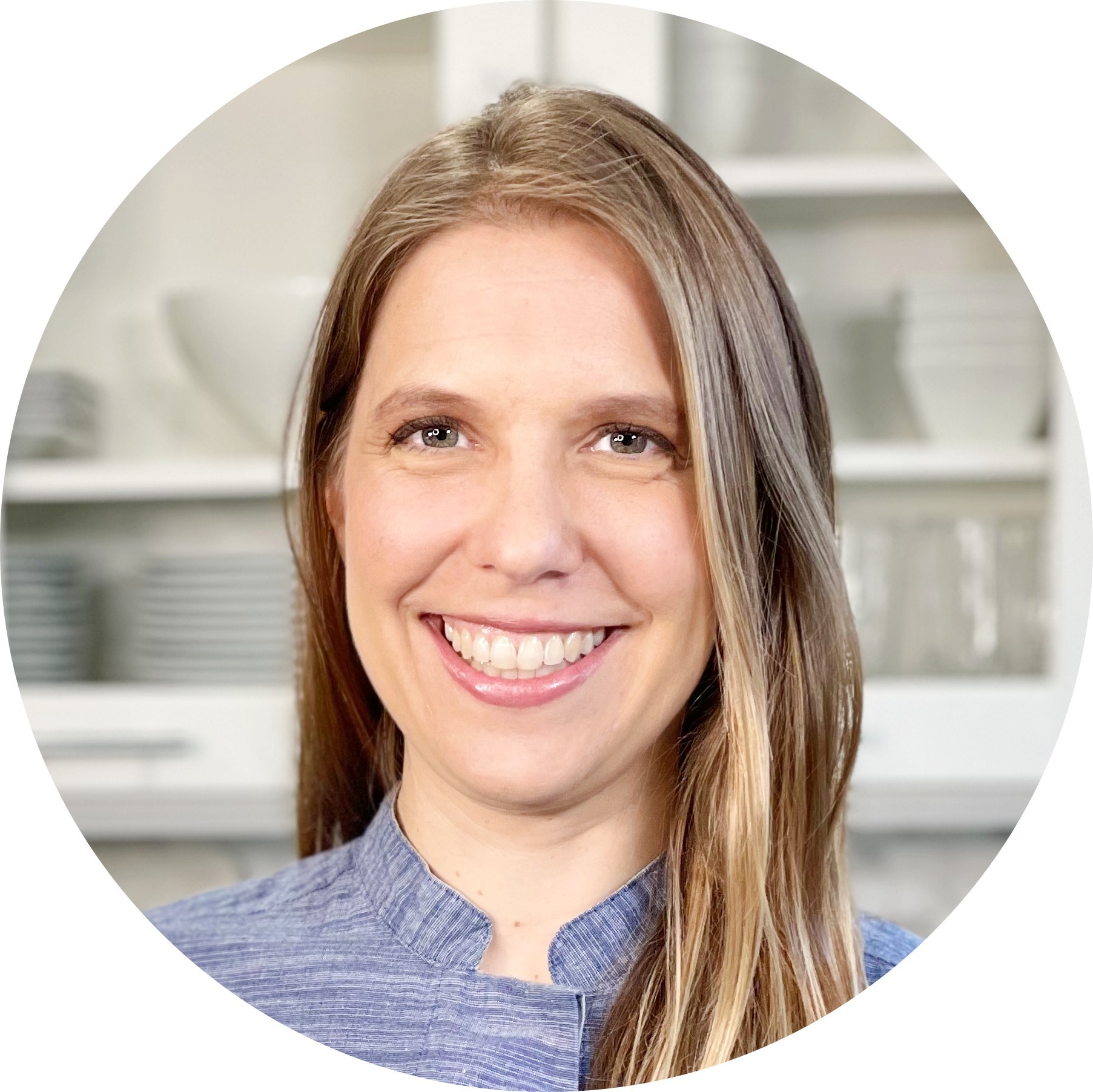 Kristy Del Coro, MS, RDN, LDN
Kristy has over 10 years of experience in the culinary nutrition field. She holds a Masters of Science in Clinical Nutrition from New York University (NYU) and a Culinary Arts Diploma from the Institute of Culinary Education (ICE). Kristy completed her culinary externship at the Michelin-starred restaurant Rouge Tomate in New York City and eventually joined their team as the in-house culinary nutritionist from 2011-2014.
Kristy co-founded the Culinary Nutrition Collaborative with Jackie to provide more continuing education opportunities for RDs that bring nutrition science to life in the kitchen. In addition to her work with the Culinary Nutrition Collaborative, Kristy is an active freelance writer for various digital food and wellness platforms including Spruce Eats, RealSimple.com, and Well + Good. Kristy is also a member of the Verywell Fit Review Board. Kristy resides in the Portland, Maine area with her husband and two young children.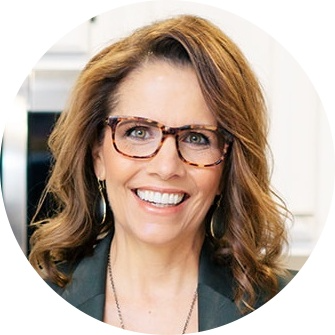 Nutrition Education Expert
Jeanne Petrucci, MS, RDN
Jeanne brings more than 25 years of experience as a private cooking instructor to her second career as a registered dietitian. Incorporating food experience into the nutrition care process is the foundation for her professional contributions, which include participation in research, the creation of a transformational meal planning program for dietitians and other wellness professionals, and a growing evidence-based, consumer-facing nutrition education library.
Jeanne received her MS degree in nutrition education from Teachers College, Columbia University, and is the founder and managing director of Living Plate Rx, a nutrition content and meal planning software company. She resides in New Jersey with her husband, four children, and a menagerie of animals.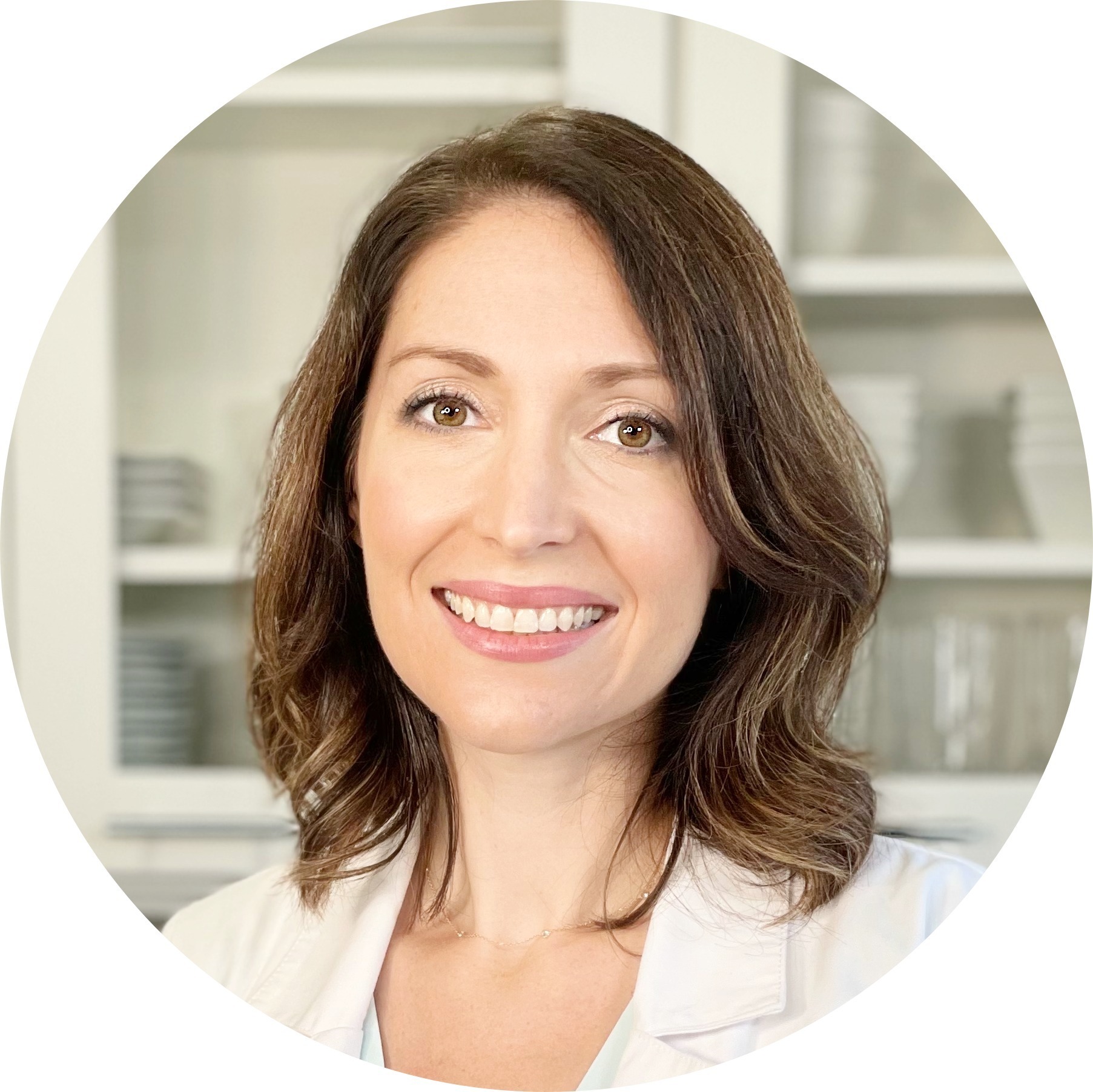 Clinical Nutrition Expert
Jackie Topol, MS, RDN, CDN, CLT
Jackie is a registered dietitian and culinary nutritionist whose mission is to help people use food-as-medicine to manage and reverse a variety of health conditions. Jackie holds a Master's degree in Clinical Nutrition from New York University and began her career at one of the top hospitals in the nation, seeing a wide range of patients, from those who were looking to prevent disease to those with critical illnesses.  
To further her education, Jackie studied integrative medicine and nutrition for years through the Institute of Functional Medicine and the Integrative and Functional Nutrition Academy, among others. She has also been teaching cooking classes and leading culinary demos for over 10 years.
Jackie founded the Culinary Nutrition Collaborative because she and fellow RD Kristy Del Coro felt there was a gap in training for dietitians and health professionals. Jackie resides in New Jersey with her husband, son, and daughter.
ENROLL in the C.H.E.F.S. PROGRAM
immediate access after enrolling